Aug. 04, 2022
Background:
With the rapid development of high-speed network technology, Wi-Fi 6 is used by more and more enterprises. Relies on OFDMA/OBSS/Beamforming and other technologies, Wi-Fi 6 has a data transmission speed of up to 9.6 Gbps, and can significantly reduce latency. Wifi 6 has been widely used in enterprise parks, schools, hotels, hospitals, exhibition halls and gymnasiums. To use Wi-Fi 6 network, we need to ensure that there are routers/network devices that support wifi6 (ie 802.11ax protocol). The more extensive application method is to cover indoor and some outdoor areas by connecting to wifi6 AP.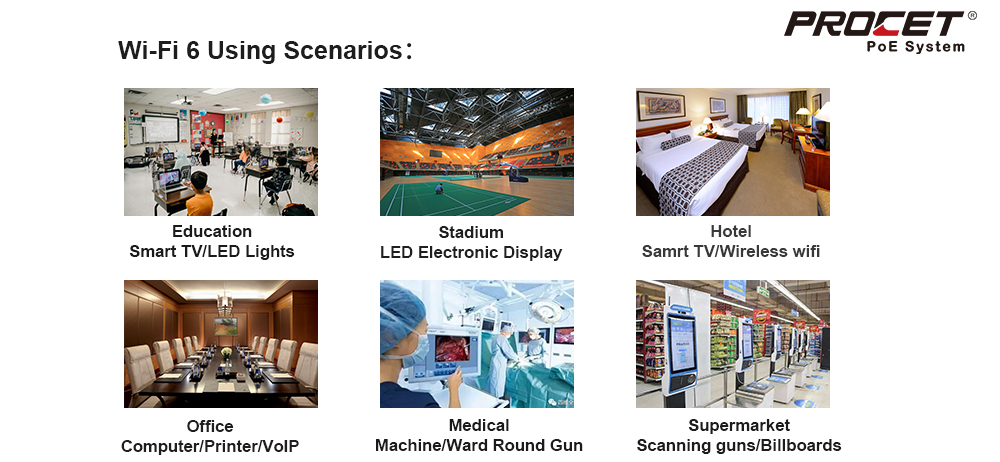 Demands:
Depending on the locations of installation, the installation of Wi-Fi 6 AP can be divided into indoor and outdoor installations. The differences are mainly in the using environments, which means we also need different power supplies for the APs according to their using environments.
When installing indoor Wi-Fi 6 APs like at hotels or schools, there will be a large number of APs to be installed due to the obstruction of walls and other objects, and the wiring is complex. However, when installing an outdoor Wi-Fi 6 AP, the most common problems are long installation distances, no power supply, and poor equipment working environment.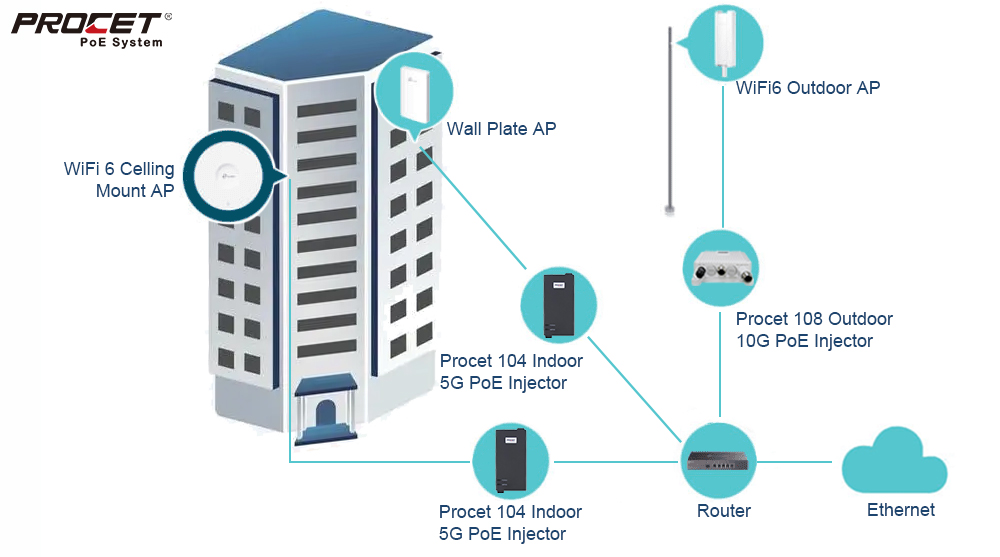 PROCET Solutions:
For Indoor Wi-Fi 6 APs: PoE is the best solution for indoor AP installation. Enterprise batch-level installations generally use multi-port PoE switches to directly supply power and data. Ordinary switch and PoE injectors to supply power to the network will do good, too.
We need to notice that in order to make the network speed of Wi-Fi 6 reach the predetermined rate, both the ethernet and PoE switch connected to the Wi-Fi 6 AP need to support 5G/10G data rates, that is, when installing Wi-Fi 6 AP, a 5G/10G PoE switch or 5G/10G PoE power injectors is needed.

For Outdoor Wi-Fi 6 APs: PoE injectors are more suitable for outdoor AP installation. Because of the harsh outdoor environment, the PoE injectors for outdoor APs require the performance of waterproof, lightning protection, and wide temperature operation. Procet's industrial-grade PoE injectors are perfect for outdoor AP installations. SFP enables a super long transmission.